How to make your restaurant website stand out
As a restaurant owner you know most of your revenue is made in your restaurant. A restaurant needs to promote their business in order to get customers rolling in. What if you could use your website in a way such as to get more customers? We've compiled 10 ways to make your restaurant website stand out.
Mobile Friendly Menu
Many people are using smartphones to make regular decisions about businesses. Travelling customers depend on smartphones to make dining decisions. This is huge! Have you looked at how your menu looks on a smart phone? If your mobile website doesn't look quite right, chances are your website is not optimized for mobile devices. Consequently you could be losing customers.
Updated Menu
Make sure your menu is up to date. Studies show that customers choose what they will eat before they even arrive at your restaurant. Customers that have their heart set on a dish you no longer serve will hence be disappointed.
Name, Address, Phone (NAP)
Make sure your name, address and phone number are visible and easily found on your website. Make your restaurant website stand out by updating and make this information current.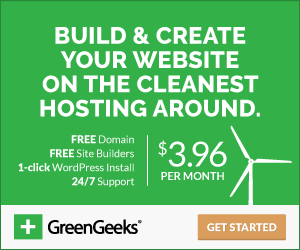 Portray your company as trustworthy and professional with your own branded website. Ardent Designs uses GreenGeeks and trusts & recommends their amazing service.
Food Images
This goes without saying, right? Always have fabulous professional looking images of your food. Hire a photographer if necessary. In addition, your chef should encourage customers to take pictures of your restaurants food. Customers taking pictures of your restaurants food is free advertising! Customers love to post to social media.
Dish of the Day
Having dish of the day posts on your website will gather a lot of customer attention. A dish of the day image post will create excitement for something only offered on Tuesdays. According to qsronline.com 8 in 10 consumers will visit a restaurant in off peak times if they receive a discount. Offering deals on certain days or hours during the week can as a result increase the amount of consumer traffic during off peak hours.
Advertise Locally Sourced Food
Use, show and also talk about locally sourced food on your website . Chefs predicted locally sourced foods as the #1 food trend in 2015. This includes meat, seafood and local produce. Locally sourced food has been a strong trend for a couple of years and it is also anticipated to be strong in the future. If you aren't utilizing this this technique you might as a result be missing out on customer traffic.
Show Healthy Menu Choices
Show or talk about healthy food options. 76% of consumers prefer to visit a restaurant with healthy options. This isn't new or surprising, but it is especially relevant because it is popular.
Stand out Online
Standing out online is easier said than done. Proper search engine optimization (SEO) goes a long way. Proper SEO will help therefore  you rank better and as a result assist customers in finding out about your restaurant. Creating unique content will help make your restaurant website stand out. Consider writing an article about your new chef, special dish of the day, or create a video of the chef in action. This creates customer engagement.  As a result this will have a greater impact on customers. Consequently customers may choose the restaurant that gave tips or insights over the restaurant that ranked #1 on a search.
Reservations Technology
Customers appreciate being able to make a reservation. Adding this simple technology to your website will allow customers to book a table easily.
Hire a Professional Website Designer
Take care to hire a professional website designer. Not hiring a professional designer consequently will cause your restaurant website to look amateur and unprofessional. Consequently driving customers away.
In conclusion your restaurant website is so much more than just a place to find your phone number and location. Most of all make your website work hard for you. These are only some examples of how your restaurant website can stand out.
10 ways to make your restaurant website stand out