Basic SEO
SEO stands for search engine optimization. SEO is the best practice of optimizing a website so that it ranks higher in search queries. Search Engine Optimization refers to the written and media content on your website. Search Engines use 'bots' to crawl your website and try to understand what your website is all about. It is important that a website is written so that a 'bot' and a customer can read it very easily. Keywords help bots identify what the website is about, how relevant it is to a user's search query and how high that keyword should rank among many other choices. Website design and SEO professionals use many techniques to achieve SEO, which I will talk about in this post.
On-Site SEO
When considering SEO it is important to make sure that your descriptions, headings and the structure of your website is adjusted to promote your keywords successfully. Keywords are the words and phrases that you are trying to rank highly for in search engines. In other words, what your business is about and how your customer will find you.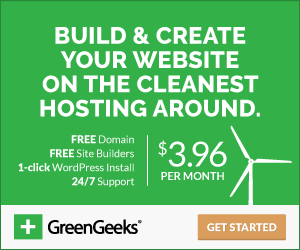 Portray your company as trustworthy and professional with your own branded website. Ardent Designs uses GreenGeeks and trusts & recommends their amazing service.
Images
Images need to be the correct size and compressed. Incorrectly sized images or images that are not compressed can result in slow to load websites, and reduce ranking.
Keyword Use
Keyword usage helps the search engine understand what the webpage is about and consequently helps to determine how relevant the website is to the customer's queries.
Meta Description
This is the snippet that appears on the web. It should contain keywords and a brief description of the webpage.
Title Tags
This is text to identify images.
Keyword Density
This is the number of times a keyword will appears in the first paragraph.
Internal and External Links
It is important to ensure that there are no broken links on any pages, and that there are some links that point to relevant useful information on and off site.

Do you want to create your own website but don't know where to start? Over 80 pages including picture detailed instructions. This beginner's step-by-step WP Guide will show you how to build a website.
ALT Tags
This is a description of image, when the image is not available. Useful to the blind or visually impaired as well as search engines.
XML Sitemap Creation
This is the URL structure of your website. This is important because it helps 'bots' navigate your website more efficiently.
Submission to Search Engines
Submitting directly to search engines can help search engines learn about your website faster. Sometimes it takes only a few days for a search engine to find your website, sometimes it takes a few weeks.
In conclusion, you need to have awesome content. They say content is king and it's true! If you want to be the best result that the search engines serve to customers you have to think about the user experience when implementing your SEO strategy. After all, that's who's searching for you.
What is Search Engine Optimization?